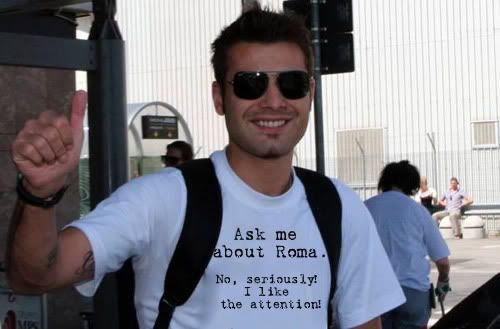 Here's the deal: I'm starting out with Mutu, *not* because it's the biggest news, but because this ongoing drama irks me to no end, and I'd like to get it out of the way. Anyway, I'll direct this right at the man himself, since we all know that he lurks around The Offside:
Hi Adrian. I'll cut right to the chase: This "b…bbb…but I was on vacation so I didn't have time to think about it" act that you've been pulling hasn't fooled anybody. We know that during your holiday, you were on the phone getting advice from *cringe* Chivu, of all people, and it's likely that you called your agent so much last week that you came back with worn out cell phone keys. At this point, you should be able to put pen to paper somewhere. So what's it going to be? Are you purple, or are you yellow and red? Please decide soon, as the recent parade of vague statements is getting kind of tired. I mean… your supporters are even starting to sound a little annoyed, and that's saying a lot, considering their nice-guy image. Thanks in advance for letting us know… soon. Alright, good talk.
Moving right along…
Angry Bull
Has anybody at Torino listened to their most talented, promising player lately?
When the key figure in your squad's present and future success says things like, "How much longer can I stay at a Torino like this?" or "I don't want to leave, but I can't say for sure that I will be a Toro player in September," it just doesn't bode well, to put it lightly.
And more importantly, does anybody outside of Turin hear him? Anybody as in… Roma? Seriously, if ever there was a need to make a call, it's now. Let's take our eyes off of the purple Romanian for five minutes and get this guy. Please.
Quags & 'Quinta
Speaking of players that I'd be genuinely excited to see in yellow and red, Corriere is keeping the Quagliarella / Iaquinta dream afloat. Specifically, while they concede that Mutu is "the first choice," and Di Natale is "the alternative," (Hey – their words, not mine) they also contend that both Quags and 'Quinta are still in the running. This of course goes against what the latter player has been saying for a while now, and even recently. That said, despite the fact that he'll likely be wasted on Juve's bench for half the season (Think Amauri-Trez-Alex), Iaquinta seems to be totally hypnotized by the prison stripes.
I wish I could say that "on the other hand, Quagliarella is a realistic option," but the truth is, the Quags rumors are probably just a couple degrees warmer than the ones about 'Quinta. His agent seems intent upon keeping the door to Roma slightly ajar, saying that Roma has been in continual contact, and that "relations are excellent," but I tend to think that there's something in the water at Udine which is keeping that squad's potent attack intact. And while Corriere points to the price tag as a main factor, the estimated cost of 11-14 million euros isn't exactly light years beyond the figures being thrown around in talks about other prospects.
Other Stuff
Just a few odds and ends: